Welcome

to Floor Master Inc.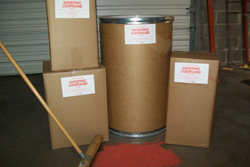 For the last 56 years, our Chattanooga, Tennessee based company has sold our now famous janitorial sweeping compounds in use by thousands of companies throughout the United States. What makes these products more reliable than anything else on the market is this: They're guaranteed to hold down dust and leave a long-lasting shine on most types of concrete floors!
While we may have started out as a small company in Chattanooga, we now offer our products all over the United States. As well, we have expanded our company to include freight and trucking services that service anywhere within a 1,000 mile radius of Chattanooga. From trucking to sweeping compounds, Floor Master has been devoted to providing nothing but superior services to their customers.
Our Company's Mission
At Floor Master Inc., we believe in offering only the best to our customers. From using the highest quality of materials in our cleaning compounds to delivering our customers' shipments quickly and affordably, you'll always know your complete satisfaction is our #1 goal. In fact, some of our loyal customers have been with us for over 30 years, and we'll do everything possible to keep it that way!
To learn more about our products, please take a few minutes to browse around our website. This way, you'll find out who we are, what we sell, and what we can do for your business soon!
Contact

Information

Floor Master Inc.

4801 Hooker Road

Chattanooga, TN 37407

Toll Free

: (800) 251-2004

Local

: (423) 867-4525

Evening

: (423) 413-2875

Hours of Operation

:
Monday
Tuesday
Wednesday
Thursday
Friday
Saturday
Sunday
8:00 AM - 5:00 PM
8:00 AM - 5:00 PM
8:00 AM - 5:00 PM
8:00 AM - 5:00 PM
8:00 AM - 4:00 PM
Closed
Closed